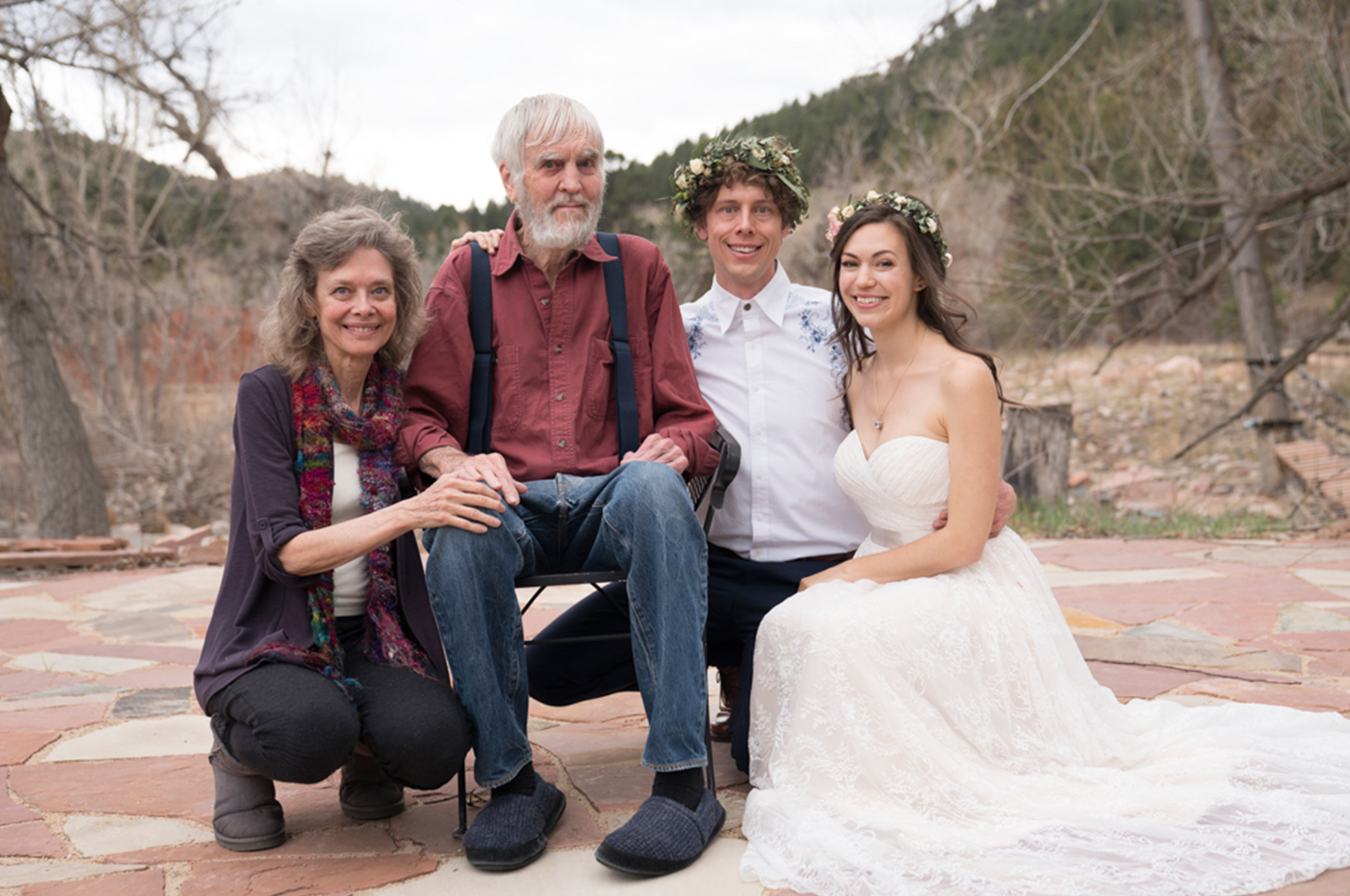 22 Sep

My Father, Mentor, and Dear Friend

It's pretty amazing when your parents are your most important mentors and colleagues, and also two of your best friends. It's with tears in my eyes that I write today to let you know, if you haven't already heard, that my father Steve Andreas passed away on Friday, September 7th. One of the many things he taught me is that there are many different kinds of tears, and not recognizing this can often bring confusion. There are tears of grief or sadness or loss, tears of joy, tears of reunion with something or someone long lost, tears of truth, tears of gratitude… Tears can mean so many different things. Today my tears are of gratitude and connection—gratitude for all that my father has given me and all the time I got to be with him, and reunion with him as I sit here and reconnect with so many valuable and good and joyous times with him. There are so many… Searching for arrowheads and dinosaur bones with him in Colorado and Utah… The times he would call in agricultural burns and let us burn the fields behind the house (teaching us proper fire safety of course)… The hunts for treasures at yardsales… Building the chicken coup together… Strolling the beaches in Hawaii looking for shells or, if we were lucky, a Japanese glass fishing float… Going into the garage to find just the item I needed for whatever project I was working on at the time… The articles on black holes or other topics of interest that he always saved for me… Making my brothers and I laugh when he read us "Watership Down" with different accents for the different animal characters… Reading us the children's book "Love You Forever" and never being able to finish without crying…

I remember when I was about 12 years old, thinking about the fact that I had an old dad. I did some calculations, and figured out that with some luck he might live until I was in my mid-thirties. I figured I could deal with that. As it turned out, he did, and while of course I wish he'd lived to his nineties, I'm glad I got as much time with him as I did. As he was getting older he often said, "Getting old isn't for sissies,"  and once he pointed out that "sissies" is technically a sexist term, originating from 'sisters.' He was always interested in etymology (the origins of words and their changing meanings), and had a massive vocabulary. "But getting old beats the alternative," he'd add, pointing out that he had already beat the odds for longevity in his cohort. One of his favorite jokes was, "What do you want people to say to you at your funeral?" Answer: "Look, he's moving!"

He was certainly someone who loved and valued life very highly, but at a certain point in his illness his perspective changed, and he no longer felt that "getting old beat the alternative." Toward the end he said he felt like a prisoner in his own body. My wife Catherine and I moved into the downstairs apartment to be closer to my parents, and also to help out with the physical tasks that needed doing. It still felt like he helped me as much as I helped him. He used his extremely limited energy to be of use to others whenever he could. One time he called me in to his bedroom (he spent about 23 hours of the day in bed near the end) and told me he had a new idea for how we could get better lighting in our apartment. This was not an unusual occurrence. Some of my most valued time with him was sitting on his bed and getting his insights about NLP and my client work. The day before he died, he mustered what little energy he had to peck away at the keyboard (one hand was more of a claw with the arthritis) to edit a final interview with Rich Simon for the Psychotherapy Networker.

Throughout my life, he would occasionally stop to tell me and my brothers how much he loved us, and told us specific things he appreciated. "I just want you to know," he'd conclude. "Because you never know, a truck might hit me tomorrow and I want to be sure you know how much I love you." Last October when his health declined even faster than it had been previously, he thought he might not live longer than a month or two. He was always a planner, so he emailed my brothers and I a detailed health update to prepare us. Here is part of what he wrote:

"I want you to know this with as much advance notice as possible, so that in the remaining time that I have, we have the chance to talk and say whatever we want to say to each other. I think we have pretty much kept current with Skype calls, so there may not be a lot unsaid. … It's important to me to let you know how much I love you, and how pleased I am with how each of you have developed, and found your way in the world. I'm particularly pleased to see how gentle, loving, and patient Loren and Darian are with their kids and spouses, and I have no doubt that Mark will also do the same, when/if he's a daddy. I want to offer each of you a chance to say anything you may want to ask me or say to me while I'm still alive."

I wrote him back: "I think mostly I want you to know that you've taught me so much about how to have a good life. I think you're the wisest person I know, and I'm so blessed to have you as my dad. The things you've taught me have been so meaningful to me and useful to me and way too numerous to count. But I often find myself noticing responses or behaviors in me that I recognize I got from you, and that I feel really good about. One of them is thinking how I can be useful or helpful to my housemates and doing small things that will make a big difference in their lives. You've always done so much for me and Loren and Darian, and your thoughtfulness in saving and forwarding interesting articles, videos, etc. I want you to know how much I've appreciated it, and often I didn't let you know that I watched or read them but I pretty much always do, and that's been a huge and important part of my education—because you read so much, I've really valued the things you choose to forward on, and know it's coming from someone with a wide breadth of understanding. So I want to say thank you for this. Catherine has really appreciated you also, and your wisdom and thoughts for working with her students, and I know she wishes she got to know you earlier when you had more energy. I love you very much and I feel so fortunate I've gotten to have you in my life so much longer than you had your dad in yours. I wish it could be a lot lot longer still, with you feeling good and healthy. I love you so much."

Dad responded: "Hi Mark, thanks for all you wrote; I'll keep it, reread it, and enjoy crying (good tears) some more. For now I'd like to encourage you and Catherine to come by SOON, to look at art, because…"

As it turns out, we had almost another year to cry good tears, connect, say things we wanted to say, and spend time together. In that time Catherine and I got married, and she's now pregnant, HOORAY!! So it turns out I will be a daddy. Life continues on.

Thanks Dad, for everything you gave me. You'll be with me as a resource for the rest of my life.