with Mark Andreas
March 14th (Saturday)
Boulder, Colorado
"I wanted to personally tell you how much I appreciated your instruction. I wouldn't mind taking the workshop again next weekend! … Mark Andreas' instruction was perfect. He was easy to follow and his manner compassionate."
—Nina, participant in Mark's Training in Austin TX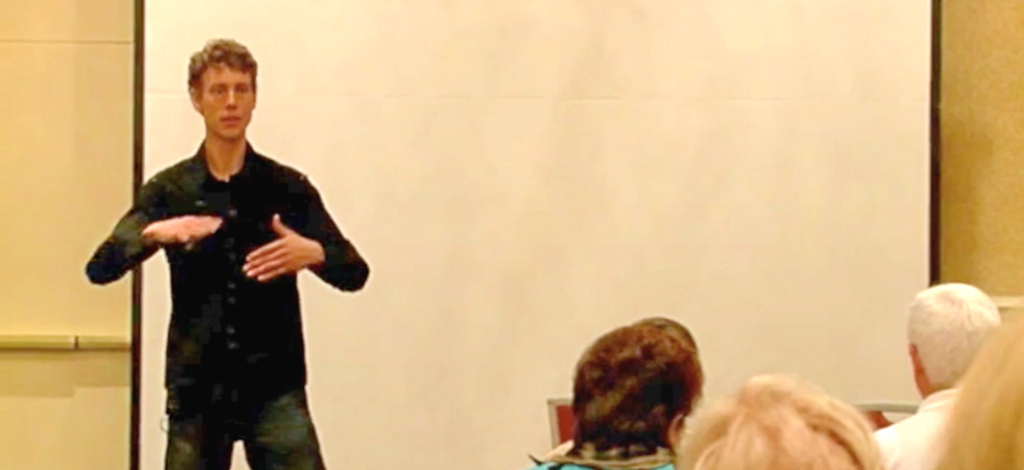 Rapid and Effective Personal Change
Neuro-Linguistic Programming is a vast field encompassing interpersonal skills, personal change methods, and processes to access human excellence in almost every profession and human activity. Come be a part of this special, 1-day sampler designed to give you a glimpse into some of what NLP can offer you. After this intro, if you want to learn the principles of NLP in depth, Mark is one of the trainers in the full 12-day NLP of the Rockies Real World Integrated NLP Practitioner Training Program this summer in Winter Park, CO.
NLP, as defined by the Colorado Department of Regulatory Agencies, is:
"A detailed operational model of the processes involved in human behavior and communication. Although it is not itself a psychotherapy, NLP's principles can be used to understand and make changes in any realm of human experience and activity. NLP, however, has been applied to therapeutic concerns, and the result is a powerful, rapid, and subtle technology for making extensive and lasting changes in human behavior and capacities. NLP deals with modifying and redesigning thinking patterns, promoting flexibility, and forging new capacities and abilities."
In this one-day training you'll be able to notice how changing the way you think changes your feelings automatically, and how directly changing the way you feel can change the way you experience and act in the world. These simple changes can have a profound effect, because with NLP you'll be changing the way your brain encodes experience. When you learn how to change these codings, your thoughts, experience, and behavior all change, allowing you to access natural states of resourcefulness that you may have never thought possible. Once we understand ourselves in this new way, it not only makes our own lives easier, but we are able to communicate and work with others with a new level of effectiveness, understanding and influence.
Join Mark for this NLP sampler day to:
Learn that your psychological experience has a structure.
Use your understanding of this structure to shift your experience for the better.
Find out how others represent their experience differently.
Dissolve or change unwanted emotions into experiences that work for you.
Discover the positive purpose of critical internal thoughts.
Explore the fundamental presuppositions of effective brief therapy and change work
Apply NLP principles to your own life and goals.
Click Here to Register Now!
The NLP personal change methods
work from the inside out to change unwanted behaviors, feelings and responses. NLP processes are useful for transforming all kinds of behaviors and feelings, from simple limitations such as biting your nails or feeling embarrassed, to deeper issues like trauma, anxiety, anger or grief. The processes can help us to find an underlying sense of well-being, even when life is at its worst, and our worst faults and least-liked behaviors can even be the doorways to benefits we never would have guessed about.
The NLP communication methods work by giving us an in-depth understanding of how each person represents their internal experience in unique ways, so we can match our communication to their experience. Understanding and recognizing body-language and non-verbal communication gives further ability to connect, even with those who seem to completely disagree with us. Discovering the underlying values and positive intentions of even the worst behaviors allow us to find common ground with anyone, and the fundamental presuppositions of NLP guide us as to how to communicate effectively and with greater influence and truth.
How You'll Learn
Mark will begin with a brief introduction to the Origins of NLP, and then guide the whole group through several exploratory experiences in the privacy of your own mind. This way you will have your own first-hand understanding of the foundational principles of NLP. From here we will go into some mini-methods that you may already find useful. Some of those who wish to can share their experiences with the group as we explore, so we can also learn from the whole group's experience. Mark will demonstrate certain principles and methods up at the front of the room, with volunteers from the group, and the group will have the opportunity in pairs and trios to practice these principles and methods to support each other in getting our outcomes (You will have clear steps to follow, and Mark will be checking in with each group to support you in the learning process). There will be time for feedback and questions after each stage of the day, with particular emphasis on applying these tools to your own life goals.
Click Here to Register Now!
Tuition:
$75 early registration
(Now through February 28th)! $95 regular
Date: March 14th, 2015 (Saturday)
Time: 9:30am–5:00 pm*
Lunch break will be 1.5 hours
*Please arrive between 9:10 and 9:20 to sign in.
About Mark Andreas
Mark Andreas lives in Boulder CO, where he has a private practice offering individual sessions assisting people in achieving life-goals and resolving limitations using NLP, Core Transformation, and other methods for personal transformation and development. Mark is a trainer in the NLP of the Rockies 12-day Real World Integrated NLP Practitioner Training, and he offers NLP and personal growth trainings in Colorado and around the US, and teaches NLP at Red Rocks Community College. Together with his parents Steve and Connirae Andreas, Mark co-sponsors Andreas NLP Trainings. Before working in private practice, Mark worked in wilderness therapy as a counselor/trip-leader for the Monarch Center for Family Healing where he was in charge of facilitating groups of "troubled" youth on a daily basis both in individual therapy and group process. He is currently working on a book about the principles of teen leadership, including lots of stories from these experiences. Mark is Author of the book "Sweet Fruit from the Bitter Tree: 61 stories of creative and compassionate ways out of conflict," strongly endorsed by Dan Millman and William Ury.